LinkedIn Profile Review
For a Profile that reflects who you are and how you want to be seen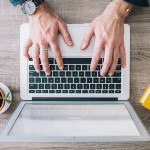 As online recruitment has grown I am helping more and more clients enhance their careers using their LinkedIn Profile.  If you are serious about changing your career, getting a new job, or being a successful business owner it is essential that your LinkedIn Profile reflects who you are and what skills you have.
LinkedIn is more and more becoming the go-to tool for employers and customers to find out if you are the right fit for them.  If you aren't visible there, and someone else who has a similar skill set is, they will have the advantage over you. Similarly, if you are on LinkedIn but your profile is out of date, or doesn't reflect your best qualities, you are putting yourself at a disadvantage.
My experience in HR Recruitment including my skill as a competency-based interviewer will provide you with insight about what's important to say in your profile and guidance about how to appropriately stand out. You will also receive advice about how you can use LinkedIn to secure your next job.
I'm a career coach with 15 years experience and have worked with well over 1000 professionals including people from the following organisations:
Accenture
AT&T
BT
Education
Help for Heros
HMRC
Local Councils
NHS
Rothamstead Research
Social Services
Vodafone
Xerox
Your Professional LinkedIn Review
Your LinkedIn Profile can help you develop and build relationships with key people, agencies and future employees that could lead to your next career. Overall you will gain:
►Real time, independent, impartial feedback about your profile from an experienced careers professional
►Tips about how to improve it
►Insights about what to include, or leave out to increase your chances of success
During you bespoke 60-minute online consultation you will:
►Get clear about your specific career objectives
►Understand how LinkedIn can maximize your chances of success
►Create a LinkedIn strategy to help you achieve your objectives
►Learn what will get you hired
►Gain tailored guidance about what to include, and what not to include
►Feel more confident about being seen on LinkedIn
Your Investment: £99 (concessions available if you're claiming benefits including working tax credit)
Contact me TODAY to arrange your LinkedIn Review!
Thinking of a Career Change?
If you're unsure of your career objectives at this point but you know you want a career that is fulfilling and meaningful, and not just another paragraph on your CV, visit my Career Change Programme. You will benefit from six x 60-minute sessions to help you get clarity about your career.
Alternatively, if you would like a free, no obligation 40-minute chat about where you're at in your career, please get in touch.