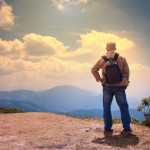 Have you been asking questions that a little while ago didn't feature in your life?
Who am I now? What is my purpose? What do I want?
Midlife has a tendency to bring up these kinds of questions. Sometimes they're quite out the blue.  Other times, they're slow to brew and emerge one at a time. Either way, I've noticed that more and more of my clients are navigating similar territory.
By midlife it's rare that our lives bear much resemblance to our former years. We realise that we need to let go of old patterns so that we may keep up with change, and remain happy and fulfilled.
A little while ago I also started asking questions that I hadn't asked before.  I don't know if it was because I'd recently turned 48 and this was my version of a midlife crisis. It doesn't really matter because the answers were enlightening and turned me towards a deeper, clearer perspective about who I am and what I want.  I was able to shed expectations and make decisions based on who I am now, not the image I had of myself 20 years ago.
I have a deeper sense of clarity and wisdom and I feel more confident about that wisdom. I don't need to seek permission, to gain approval or to go along with the crowd. I choose to be me and make decisions based on what I really want, not what I think I should want.
Our predecessors knew who they were all the way through their lives; Steelworker; Father; Husband; Churchgoer.  But times have changed and by the time we reach midlife now we've often changed our work, our commitments, our location, our friends, our communities and even our beliefs.
It's no wonder we find ourselves confused and a little bewildered, with more questions than we have answers for.
Does saying yes to what you want more of, and no to what you want less of appeal to you? Would you like to get clearer about what the yes's are?
Maybe you're also wondering:
What do I need to give myself permission to let go of?

What is good in my life that I would like to give more attention to?

What would make me happy now?

What feels challenging and leaves me feeling drained?

What excites me and adds value to my life?

What legacy do I want to leave behind?
A Midlife Review will help you:
Discover more meaning & purpose
Learn how to cultivate a better relationship with yourself, and others
Develop ways to access your innate wisdom
Give yourself permission to change and embrace the evolved you
Let go of fears about your own and others' expectations
Explore and create new possibilities
Midlife Review Packages
Your Review can take place in person or over skype.
There are 2 packages:
One off 60-minute Review – £100
Six sessions, 60 minutes each, includes email support – £625
(concessions apply if you are receiving benefits including working tax credit)
To arrange your free 40 minute, no obligation conversation to see how I can specifically help you, please contact me.
If you're more specifically wanting a career change, please take a look at my Career Change Programme.