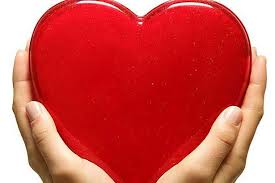 Apart from Tina Turner's vocals ringing in your ears, you might be wondering what has love got to do with your work?
I like to do think it has everything to do with it.
A little while ago someone said to me 'I want to have a love affair with my business'. I thought that was a beautiful way to think about work. I added 'I want to have a love affair with myself, so that I can have the love affair with my business'. I'll explain more about why I said that a bit later.
The obvious point is that if you are in love with your work, you'll be happy. At least, a lot happier than if you weren't.
How about your customers? What's love got to do with them? We've all dealt with people who come from a place of fear, mistrust and greed. As a customer on the end of this kind of attitude, has it left you wanting to go back for more? What if you were to come to each business transaction holding love in your heart, rather than fear? Would your working relations be more harmonious? Would you be more likely to invite a win-win approach with your clients, associates and even your competition? Would people be more trusting of you, and want to more deeply engage with you?  I should say so!
What about your finances? If you view money as 'evil' the chances are that you'll be fearful of attracting it. Even if you do manage to attract it, it probably won't stick around very long. What if you were to adopt an abundant mindset? What would having an abundant mindset (which is closely linked to love because there is no resistance in the energy of it) mean to you and the business you work in?
What if you were to love yourself more? Imagine for a minute having your lover's voice in your head, rather than your own. If you haven't got a lover, make one up for now! Would your lover criticise everything you do? Would they judge you? Would they ridicule you? Would they call you names? If they did, would you feel supported and safe enough to try new things?  Would you be bold and confident and willing to stretch and grow if they spoke to you like that? Heck, no!
That's why I added 'I want to have a love affair with myself so that I can have the love affair with my business.' I'm very aware that, like many of us, my inner critic often speaks louder than my kinder self supporter. If my inner critic gets more air time than the softer, more gentle part of me, then how does that show up in my business? Let's just say that in the past, I haven't been as bold, as confident and as willing to stretch and grow my business as I could have.
So, I've been turning down the volume of my inner critic, and allowing the other part of me to be heard more often. And so the love affair with myself begins. I thought I'd share some of the things I have found have helped me fall in love with myself, which is showing up in positive ways in my work.
What's Love got to do With it? Six Ways to Fall in Love With Your Work:
1) Align thoughts and actions with intentions. I've had a pain in my back for several years on and off, and lately its got worse. I've been to chiropractors and physios in the past and nothing much has changed. Largely because they've all given me advice, which in the main I've done little about following. I'm now working with a yoga therapist, pilates instructor and chiropractor to focus on restoring my back to full health. They're all giving me advice and I am following it for once.
That's what I mean by aligning my thoughts and actions with intentions. My intention is to be pain free.  Now, when my head hits the pillow at night, my inner critic isn't thinking up all the reasons why I didn't get round to my exercises that day in a bid to feel better about myself. What a relief! Its the same with any goals and intentions you have to do with your work. Putting them off only serves to take up valuable brain power as you spend time and energy justifying your procrastination.
2) Chart progress. I find that its really easy to focus on what's still left to be done, rather than recognise how far I've come.  Instead, at the end of every month I draw up a list of things I've accomplished. Baby-steps towards the bigger goal are all noteworthy. I also list things I've learned in the month, either about myself, or about my business. I have a tendency to forget these things, or to push them to one side and not give them credence. It helps to really get to grips with my lessons so that I can use what I've learned going forward. It feels really good to acknowledge progress, and helps to encourage me to keep going even when things don't appear to be moving as quickly as I'd like.
3) Work with a professional coach. There's nothing wrong with having the support of friends and family, but usually those people don't have the time, or the skill to listen in the wholehearted, impartial way I need, as well as offering sound support. Friends and family have their own agenda. They want the best for you, but its often their best for you, not your best for you. Their best for you is usually clouded by their own judgements of your abilities, skills, personality and your limitations.
One of the biggest benefits I gain through working with a coach is the unswerving, non-judging support.  Being a solepreneur can be a pretty lonely experience, so having someone there who I trust completely means I can be open and honest with myself.  It can make me feel pretty vulnerable at times; admitting when I've mucked up has that effect.  And, its in those moments of vulnerability and downright honesty that I make the biggest leaps forward.
A professional coach doesn't bring their own agenda to your coaching session. A good coach will invest a great deal of time and energy on their own self-development in order not to project their own baggage and self limitations onto their clients. A coach will always be seeking to uplift and inspire you to go beyond any limiting beliefs you have. If you want it,  your coach will support you and hold a nurturing space for you through the good times, and the not so good times.  Right now in my business, I would say that apart from myself, my coach is its most valuable asset.
4) Choose work that makes you happy. As a self employed business owner, I can do this more easily than most people who are employed. I choose to work with mid-life professionals who want a more meaningful and fulfilling career because it thrills me when they have a breakthrough.  I've been through their pain, and some of their challenges and I'm so unbelievably proud when a client makes a positive shift towards a brighter future, even if its a very small one.
I get to work with all sorts of people in all sorts of careers, and sometimes even those who are self employed have got themselves tied up with work that doesn't fulfil them. If you are self-employed, I invite you to make the decision to only choose the work you love.
For everyone else, if you don't wake up in the morning looking forward to your day, do yourself a favour and find the love of your life! Find out what makes the hairs on the back of your neck stand up as you think about doing this every day of your working life. Make the decision now to at least explore the possibilities. You've got nothing to lose and everything to gain!
5) Hang out with people who uplift you. Play with me for a moment and imagine that you were an alien who had landed on planet earth as part of an experiment to find out the keys to love, happiness and success.  Would you still choose to hang out with your current friends and indulge in your current downtime activities? If you hesitated, then it might be time to reconsider.  At the very least consider how much time you spend doing things that deplete your energy.  Do your friends, and activities support you and nourish your soul?
I know that for me, and many of my coaching friends, we noticed that our friendships and relaxation activities changed when we began to focus on our own personal development. This process doesn't have to be a heart-wrenching 'break-up'. Its often a very subtle one that happens gradually over a period of time.  Don't hang on to something if it doesn't serve you any more, just because you've always done it.
6) Turn up the volume of the kind-hearted supporter. If I've worked with the above five practices consistently, its much easier to do this. If I think kinder and more loving thoughts about myself, then I'm giving less power to the inner critic. When I feel good about myself, my work flows more easily and everything feels lighter, and more hopeful.
At a networking event recently someone asked me, 'what's the difference between you and all the other coaches out there?' After pausing for a while I eventually said, 'I coach from a place of love.' If you would benefit from a little more love in your work, then I'd be very happy to be your coach.
Contact me for a free 20 minute consultation, or why not come along to one of my Exploring Possibility workshops where you'll benefit from 2 hours of time out to focus on your career and how well its going for you. Read more about them here. The next one is on Sat 18th May, 10am – 12noon in Harpenden, Hertfordshire.
Warmest  wishes,
Sandra